25th annual Novi Boat Show coming to the Suburban Collection Showplace March 16-19, 2017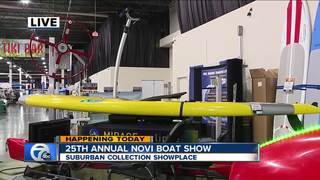 (WXYZ) - The 25th annual Novi Boat Show coming to the Suburban Collection Showplace March 16-19, 2017.
Show management expects boat sales to increase at this year's show as recreational boating is seeing some of its healthiest gains in nearly a decade, a trajectory that the National Marine Manufacturers Association expects to continue through 2018.
Boat shows provide a platform for the boating industry to unveil its latest innovations, and generate as much as 50 percent of annual sales for some manufacturers and dealers. They're also the best time for consumers to shop as dealers and manufacturers offer some of their most attractive incentives and deals, while giving shoppers the chance to compare different boats, and various dealers, in one location. The shows also provide a glimpse of buyer trends and sales for the year ahead:
Top Boating Trends to Watch in 2017
Big boats are back—One of the more standout areas of growth in 2016 was among yachts and large cruising
boats—a category that has been slower to rebound as high net worth individuals looked to remain more liquid postrecession. New yachts and cruisers are expected to have seen gains between one and three percent in 2016, and that trend is likely to continue into 2017 as consumer confidence and spending remain strong.
Affordable, versatile boats helping a new generation become boaters—Manufacturers are making smaller boats (watersports boats, pontoons, day boats, etc.) that are more affordable as they aim to attract new, younger boaters and even more sales. What's more, boats are also becoming more versatile, providing an all-in-one experience from fishing to cruising to watersports, making them more appealing to a wider audience.
Intuitive marine technology—The boating industry has embraced new technology from docking a boat with a joystick reminiscent of video games to creating wake surf waves from a wristwatch. As consumers turn to their smartphones to manage numerous aspects of their lives, manufacturers are responding and will unveil boats at 2017 boat shows that provide a more intuitive experience—one that makes certain aspects of operating a boat as simple as pushing a button.
Shared experiences—The 'sharing economy' isn't lost on the boating industry, which is welcoming the opportunity to expose a new demographic to life on the water with everything from boat rental apps to shared boat ownership. Companies like Boatsetter, Boatbound, Sailo and GetMyBoat are some of the options listed on the industry's DiscoverBoating.com, which helps beginners find ways to get on the water.