Winter Holiday Tea benefits Ronald McDonald House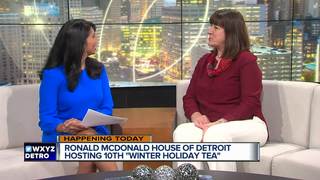 (WXYZ) -
For more than four decades the Ronald McDonald House charities have been helping provide support to families with sick children.
Saturday the Ronald McDonald House of Detroit is hosting its 10th annual Winter Holiday Tea. WXYZ's Stephen Clark is a co-emcee of the event.
It's happening Saturday, Dec. 2, from noon to 2 p.m. at the Detroit Marriott Downtown, inside the Renaissance Center. Jazz singer Kimmie Horne, a Detroit native, will be performing.
Tickets are $65 for adults, $25 for kids.
Ronald McDonald House Detroit media liaison Liz Cezat joined 7 Action News to preview the event.
For ticket information, click here.