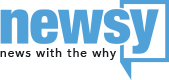 wxyz.com
National News Partner
Truthers: When Conspiracy Meets Reality
In this special report, we explore conspiracy movements that target friends and families of victims in mass tragedies — from the 2012 shooting at Sandy Hook Elementary to the one at Pulse nightclub in 2016. "Truthers" shows the real-life consequences of online hoaxes that gain millions of followers and disrupt the lives of people like Leonard Pozner, the father of a child shot and killed at Sandy Hook.
SEE MORE: Truthers: When Conspiracy Meets Reality (Trailer)
Reporter Liz Wahl also speaks with the leaders of these "truther" movements, diving into the psyche of conspiracy theorists. Through hard-hitting interviews, unprecedented access and a unique lens, "Truthers" shows us the harassment that plays out in the shadows of America's biggest tragedies.
---
Trending stories at Newsy.com