Metro Detroit weather: Frost Advisory tonight for all of Metro Detroit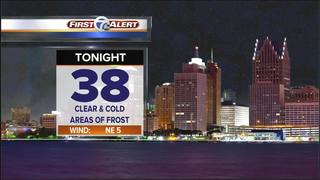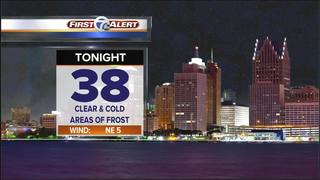 (WXYZ) - A Frost Advisory has been issued across Metro Detroit from 2 AM - 8 AM Sunday.
A clear sky and calm wind will allow temperatures to tumble into the 30s Sunday morning with areas of frost possible. Temperatures will recover into the 60s tomorrow afternoon.
The early part of next work week will stay dry before a couple of rain chances are in the forecast later in the week.
NEXT 48 HOURS:
Tonight: Clear, dry and cold. Lows: 35-39 / Winds: NE 5
Sunday: Sunny, pleasant and warmer with barely a breeze. Highs: 64-68 / Winds: Light
What does the weather look like where you live? Snap a photo and send it in, we may use it on air! Submit and view weather photos here.
Detroit weather 7-day forecast
Connect with 7 First Alert Meteorologists on Facebook and Twitter:
Facebook: Keenan Smith, Dave Rexroth, Chris Edwards, Hally Vogel,
Twitter: Keenan Smith, Dave Rexroth, Chris Edwards , Denise Isaac and Hally Vogel