Animal lovers to march for Michigan Humane Society on Sunday, Oct. 7 in Detroit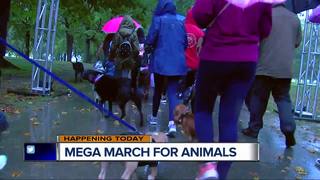 DETROIT ( WXYZ) - Thousands to gather in downtown Detroit on Sunday, October 7, for the Michigan Humane Society's 13th annual Mega March for Animals.
The fundraising walk will take place from 9:00 am - 12:00 pm at Cullen Plaza on the Detroit RiverWalk. Pet are allowed, but must be on a leash and up to date on all their shots.
To learn more about the fundraiser or to register, visit https://michiganhumanesociety.salsalabs.org/megamarchforanimalscopy1copy1/index.html