The Tenant
Darlene Spells let out an exaggerated sigh as her son Corey peeled away the black tarp lining the front wall of the living room. Behind the plastic, where one would typically expect some sort of plaster sheeting, thin slats of wood lay stacked like rotting Lincoln Logs.
A Detroit landlord is being sued for 'predatory contracts.' The city forgave $1M in unpaid property taxes
"Corey, show the bathroom too!" Spells directed from her bed in the room next door. Upstairs, more slats of wood peeked out below the shower head. The real damage, however, was only really understood when standing in the downstairs kitchen, where a yellow stain metastasized across the wood-fiber ceiling. The leak had been going on for years, she said.
The condition of the home, on the 9400 block of Manor Street, where Spells has lived since 1994, was a complicated topic. It didn't make much sense, looking at the crude mathematics of the situation: $120,000 given to landlords over the course of nearly 25 years. That sum had done nothing to prevent the house from falling apart.
At the same time, the very neglect that made rickety slats of wood the default decorative accent in the house, is also what released Spells from the unpredictability and capriciousness of absentee landlords—an ironic twist in Spells' already-beleaguered relationship with the Manor Street house.
This summer she received a call from her landlord at Detroit Property Exchange. After obtaining the property via tax auction four years prior, and collecting nearly $20,000 from Spells in rent, the company, wanted to tap out. The leaky roof, the caving-in ceiling, the crumbling front door would not be fixed, Spells was told. Real estate speculator Michael Kelly, the owner of Detroit Property Exchange, would sign the house over for $1. He did so on Aug. 8.

"I was in shock. I dropped the phone," Spells said, describing the day she found out about the proposal. Rent money could finally go to repairs that should have been done years ago, she said. Property taxes — which Detroit Property Exchange had failed to pay in 2016, resulting in a notice from Wayne County last year — would be, she said, paid on time.
"Now that I know that it belongs to me it gives you a peace of mind," she said, setting aside for now the uncomfortable question of why it now belonged to her.
After nearly three decades of landlords milking the property for all that it was worth, and failing to make improvements, the house was not just viewed as no longer profitable — it was a liability.
"Basically the house should be condemned," said Melissa Owsiany, who worked for Detroit Property Exchange for almost six months before quitting in October, because of what she saw as an ethical conundrum. "Nobody could ever own it legally and rent it to somebody because it's in such bad condition."
While the former employee said the $1-deed scenario is atypical for the company, milking properties for any revenue stream — regardless of condition — is not.
Internal emails obtained by 7 Action News and interviews with tenants, highlight a series of extractive practices that utilize the annual Wayne County tax auction to obtain cheap properties and then cycle people in for profit, often with little regard for the properties, the law, or the individuals inside.
In emails, Detroit Property Exchange staffers discussed homes within their portfolio that were being rented out with mold, lead, asbestos and broken hot water heaters. Discussions of repairs often stressed finding the cheapest possible option.
Notably, there is little evidence of oversight or an attempt to reign in the self-proclaimed speculator, with the city privately backtracking public declarations to hold the property owner accountable. In the last two years, Kelly, and associated LLCs, have been released from millions in unpaid property taxes and blight fines, 7 Action News has learned.
Kelly denies taking advantage of Detroit residents and the city's tax crisis, and in a brief interview with 7 Action News outside the Midtown offices of Detroit Property Exchange and his realty company DreamRealty, Kelly stressed that he's helped thousands experience the American dream.
"We provide homeownership to a lot of people," Kelly said, adding that his companies put people in "really good homes" for "really good deals."
An attorney for the company later forwarded 7 Action News the numbers for three individuals who had positive experiences with the company. Allen Yancey entered into a land contract through the company three years ago, saying he's had "no problems" with the condition of his home. Irving Seals has bought two homes through the company and called Detroit Property Exchange "a blessing."
Accountability

Starting in 2017, the City of Detroit began suing hundreds of property owners for purchasing large swaths of land at the tax auction but then failing to pay taxes themselves. Kelly, and entities associated with him, were sued in 2017, 2018 and 2019 — all three years the complaints were dismissed.
In 2017, the suit was dismissed because of a noticing issue, according to someone familiar with the case. But in 2018 and 2019, the complaints were dismissed because Kelly agreed to sell the city property for development.
Last spring, this was seen as part of the Fiat Chrysler deal.
When the city needed three parcels — amounting to 0.3 acres — tied to Kelly in order to secure land requested by FCA, they agreed to give the property owner 15 new parcels — all but one in the desirable Jefferson-Chalmers neighborhood — and released him, and his associated entities, from over 800 blight tickets and the 2019 property tax suits. 7 Action News reviewed the dismissed complaints and found 15 Kelly-associated LLCs were sued. The total unpaid property tax debt and subsequent penalties for the entities totaled more than $1.1 million.

FCA deal with Michael Kelly from City of Detroit by WXYZ-TV Channel 7 Detroit on Scribd
The city defends its dismissal of these suits, stating that they needed the parcels in order to complete the FCA deal and create nearly 5,000 new jobs.
"Every transaction requires a willing seller and a willing buyer, and the May 3, 2019 agreement is the bargain that the City and Mr. Kelly negotiated at arm's length," said city attorney Lawrence Garcia.
In October 2018, Kelly and the city struck a similar deal. The speculator and his associated entities were released from 18 pending lawsuits over unpaid property taxes, and a series of blight tickets were dismissed. In exchange, Kelly gave 38 properties to the Detroit Brownfield Redevelopment Authority and 23 properties to the Eastern Market Corporation.

Deal with Michael Kelly for property in Eastern Market by WXYZ-TV Channel 7 Detroit on Scribd

Garcia said in this case Kelly hadn't been interested in selling the land to the city until he learned of the suits against him and his entities.
"It helped convince him," Garcia wrote in an email this week.
In addition to these agreements with the city, 7 Action News has learned that Detroit Water and Sewerage Department (DWDS) failed to make good on its 2017 promise to sue Kelly's Detroit Property Exchange over delinquent bills. When we followed up with the water department to find out what happened, we were told DWSD "reached a resolution on several of the delinquent accounts associated with properties Michael Kelly owns or owed at the time of litigation."
That doesn't mean Kelly necessarily paid up. Instead, he was able to again escape accountability by fragmenting the bills among his various LLCs. Circuit Court requires a claim of $25,000 or more.
Like a modern-day Midas, armed with valuable land and a fine knowledge of the law, Kelly has managed to repel media attention, fines and fees while continuing to engage in behaviors that his critics say not only exploit Detroiters, but would not be tolerated by almost anybody else.
"There is an asymmetry that exists between how the individual taxpayers are treated and exploited and how he's being rewarded," said Peter Hammer, director of the Damon J. Keith Center for Civil Rights, pointing out that tax foreclosures — a crisis that Kelly has capitalized on to acquire land — has helped to push Detroit from a homeowner city to a rental-first market. A reality that has allowed Kelly to pick up more land — and therefore have potentially more parcels the city may want to negotiate over — but also broadens the number of individuals susceptible to cycling through his properties.
The Making of a Speculator
The goals of speculators vary, but research shows most hone in on one practice to maximize their profits. The Moroun family, which owns the Ambassador Bridge, for example, strategically buys land to protect its business interests. Others buy houses for cheap at the foreclosure auction, often in bulk, flipping or renting them out while failing to make repairs or even pay taxes in some cases.
What makes Kelly unique — and ultimately quite sophisticated — according to Joshua Akers, an assistant professor of Geography and Urban Region Studies at the University of Michigan-Dearborn, is he's not limited to just one practice.

As the FCA and Eastern Market deals indicate, Kelly has, over the years, strategically picked up land and sat on it, with the hopes it will eventually become valuable. He's also created, via Detroit Property Exchange, a robust rental and land contract business.
"What he's really savvy at is understanding how the law works," said Akers, who contends that at the peak of Kelly's two decades of purchasing property at the annual auction he had 1,150 parcels.
"He's also very adept," Akers continued, "at identifying different wrinkles or advantages in property parcels themselves, looking at the map and understanding where he should purchase and what's going on."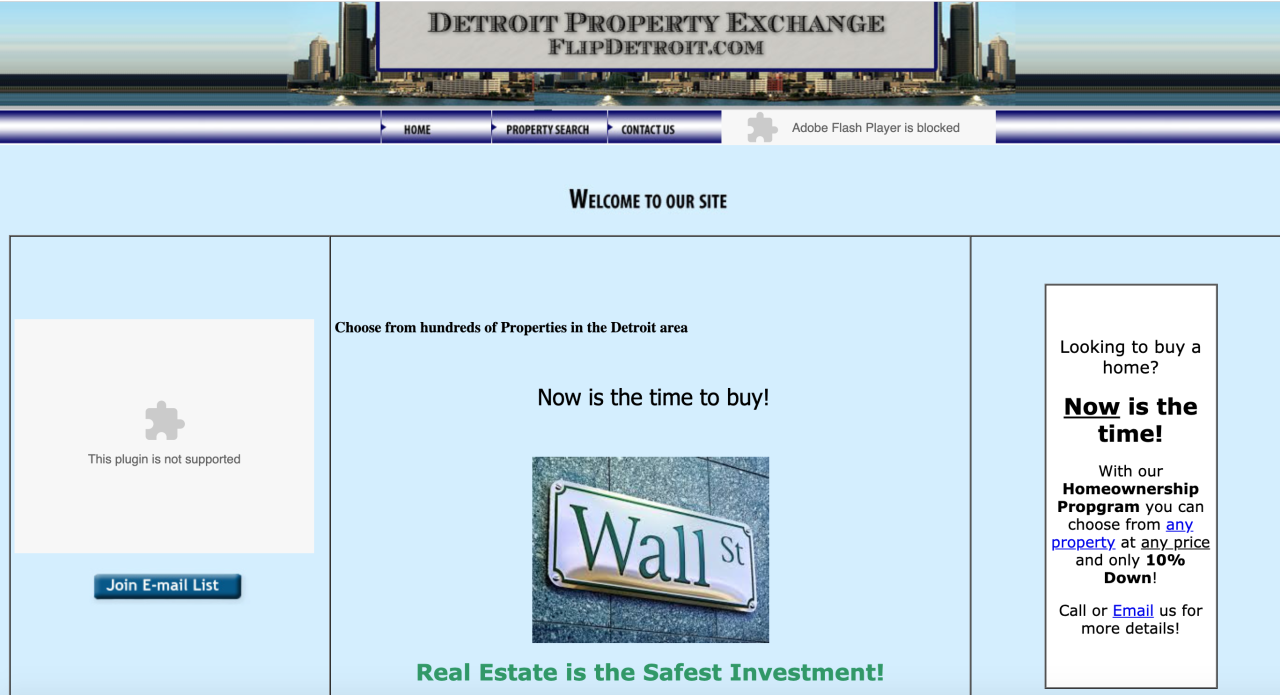 The academic points to a 2011 Detroit News article that detailed an unusual practice where Kelly would look for anomalies in the tax auction, like parcels within a business's greater footprint. In 2006, for example, Kelly purchased a parcel within a strip club's parking lot for just over $1,000. After making it nearly impossible for people to enter the club, he sold it back to the club for $19,000.
"He makes his living preying like a damn leech on other people," the club's general manager told the paper at the time.
While the parcel anomaly tactic has gotten a lot of attention for its unorthodoxy, for Akers, it's Kelly's work in the neighborhoods that has the biggest consequences for Detroit.
"I think the number one issue with speculators and bulk buyers operating in the ways that Michael Kelly and Detroit Property Exchange are, is the way in which they create this unending instability in many of Detroit's neighborhoods," said Akers, pointing to the toll this takes, "particularly for families in the city."
Cycling through Ohio
This hardship can be best understood with a Detroit Property Exchange home on the 20400 block of Ohio Street, whose chain of title highlights just how many tools Kelly and his LLCs have at their disposal.
In 2012 and 2015, a Kelly LLC, Belmont Properties, filed land contract documents with the Wayne County Register of Deeds, meaning two different sets of people entered into agreements where they likely believed they would be achieving the "American dream" of homeownership.
Neither was successful in this quest. And in 2019, the property transitioned to a new profit-making tool: A contract with the Detroit Housing Commission to accept Section 8 vouchers. The government subsidies are typically considered the holy grail in rentals, as they result in promised, monthly, on-time payments.
This is how in May, Latricia Hill ended up at the Ohio Street house.
The 38-year-old speaks with frustration, but also resignation, when she tries to pinpoint what went wrong. There were, she said, no warning signs. Freshly painted and spacious, the house seemed to check all the boxes: A room for each of her four children; a price — $1,100 a month — that her Section 8 voucher could afford. It wasn't until she moved in that the flim-flam nature of the rental became clear.
Like a movie set, the property looked the part of a home. But any human activity — actual living — seemed to trigger a series of mishaps. On the first night, the downstairs toilet flooded. Soon after, windows began losing their seal. Bug infestations followed. An attempt, by a friend, to fix a leak in the kitchen revealed improper electrical wiring.
While the flaws in the house were vexing, it was the response of Detroit Property Exchange that pushed her over the edge. Sometimes a maintenance worker would be dispatched — often resulting in shoddy patchwork. More often, she said, calls were pushed off.
It's a sequence of events that Owsiany, who was still working at Detroit Property Exchange at the time, confirms.
"Everything we'd done in that house we'd done so quickly and so cheaply that you touch it and it falls apart," she said in an interview last month.
In August, after getting the continued runaround, Hill contacted the government agency administering her rental subsidy. A Detroit Housing Commission inspection was conducted that month — it found Detroit Property Exchange out of compliance because of loose floorboards on the second floor. A second inspection, meant to review fixes, was conducted in September. The company failed again. In October, after the company had received nearly $6,000 in Section 8 payments, it was placed on rent abatement — meaning rent would be held until the problem was fixed, with a new deadline of November 30. Should the problem not be rectified by then, the contract would be rescinded.
But for Hill, the real threat is the potential loss of her housing voucher. If Detroit Property Exchange doesn't make the corrections by the end of the month, and she elects to stays there, she and her family will lose their public subsidy.
Not willing to take any risk with a company she said no longer has her trust, she is looking for new housing, selling fish dinners to raise money for the moving costs and new security deposit she will now have to pay.
"It's a money thing, it's a money thing. I know it's gotta be a money thing," the mom said, still baffled at how Detroit Property Exchange was poised to come out on top. It had collected rent and then, when asked to put in more than it wanted — to ensure a safe living environment — it seemingly bailed.
Owsiany said she's not surprised. The company's M.O., she said, is to put in as little work and money as possible. There will always be another renter or method for extracting funds.
Kelly, through a lawyer, confirmed the property was on track to losing its Section 8 status should the floor not be repaired by month's end, but reiterated that they had until Nov. 30 to make the corrections.
When 7 Action News followed up to ask how much work had been completed so far, and when it was expected to be done, Kelly's attorney responded saying they were under the impression that Hill planned to leave the house.
"Detroit Property Exchange would always prefer to address repair issues when a property is vacant as opposed to occupied, which is why they were waiting for Ms. Hill to vacate the property," the attorney wrote.
Land Contracts, Lawsuits & The House on Three Mile
In November 2018, a month after the city of Detroit released Kelly from the various property tax suits in exchange for land by Eastern Market, a class-action lawsuit filed against Kelly detailed another one of his tools for profiting off properties. This time, the land contract.
According to Gerard Mantese, who filed the suit via his law firm Mantese Honigman and Michigan Legal Service, at the crux of the case is a series of documents Detroit Property Exchange has interested purchasers sign: a rental agreement, an option to purchase and a purchase agreement. Honigman said the paperwork is purposely confusing. The company treats people as purchasers — placing on them the responsibility of fixing up the home and property taxes. But then, as soon as they miss a payment — which he said has happened given that so many of the houses require serious work after getting picked up the tax auction — the company moves to evict the individuals as tenants.
"When he tells people 'You're buying a home' they're more likely to fix it up, to pay for things they wouldn't otherwise pay for, to pay a tax bill," said Mantese. "Yet, when they fall behind, he has an incentive to get them out of there as quickly as he can."
This uncertainty is something Natalie and Jerome Day, who are part of the suit are dealing with.

Looking at the Wayne County Register of Deeds, their home on Three Mile, was purchased by a Kelly associated-LLC at the 2015 wayne county tax auction for $12,000. The following year, they agreed to buy the home for $25,900, with 10% interest.
While the couple was aware that the home had no boiler when they signed off on the deal, they contend a Detroit Property Exchange employee has assured them the company would help them get one. Three winters later and they've depended on electrical heaters to warm their two-story home on the east side.
Looking back on their experience they fault many things, but in conversation they continued to return to first-time buyer naivety and also blind-trust.
"This is my first time buying a house so I wasn't sure," said Jerome trying to make sense of how he got, what he feels to be played. "I'm putting my trust in you for my first home."
Mantese contends land contracts, a popular home-buying tool in Detroit where mortgages have historically been hard to come by, are set up in a manner where buyers have fewer protections. And therefore run the risk of being taken advantage of. That said, he contends that this doesn't have to be the case. Just because an individual doesn't have access to traditional bank financing, doesn't mean it gives the greenlight for predatory behavior.
"That doesn't mean you take advantage of them. That doesn't mean you mislead them. That doesn't mean you give them a tax form and pretend like you're going to file it with the federal government when you're not," he said, flicking at a portion of the complaint, which alleges that Kelly sent some purchasers, like Natalie and Jerome, fake 1098 forms to lead them to feel more secure in the legitimacy of the deal.
"That doesn't mean they get to be hauled into landlord tenant court," he continued. "That doesn't mean you sell them property that hasn't been appraised and that has mold that you're covering over. It doesn't mean that you give them dilapidated houses and tell them they're paying for it when they're just a tenant."
Kelly's attorney declined to comment on the case, citing the pending litigation.
Oversight
While the city is in the process of strengthening enforcement around property rentals, slowly rolling out its rental compliance program, land contracts — a popular tool with Detroit Property Exchange — fall into a murky gray space. Should they be treated as rentals — and subject to rental compliance rules — or homes that are being purchased?
Additionally as the city has transitioned to a rental-first market, the task of following up has gotten bigger.
In October the zip code of 48204 was slated for rental compliance inspections to start. This zone includes the home of Dorothy King, who lost her home to tax foreclosure in 2015, and signed a rental agreement with Detroit Property Exchange for $500 a month soon after.

Over the summer, according to King, the house went without hot water for two month. Owsiany, who confirms this, referred to it as the "problem house" in emails where Michael Kelly is cc'd.
On Oct. 7, 7 Action News checked to see this house had been registered with the city as was required in July for the October inspections to begin. At the time, the city portal stated it was not an approved rental as it hadn't been registered or, therefore, found to be compliant.
Making a Home
Nine houses up the street from King's house is Spells' home. A house that is no longer required to be inspected as part of the rental ordinance. The burden had been off-loaded, even if the problems hadn't necessarily gone away.
Spells, however, was making her own personal progress, as evidenced by a visit on Halloween.
While the front door still couldn't close properly — a result of rotting wood making it too hard to secure a lock and doorknob — a jack o'lantern illustration had been hung on the black sheeting that covered the archway. Mini painted pumpkins rested on a bench nearby.

The details were festive and fun, but the real decorative achievement had nothing to do with the holiday. Inside, Spells was eager to show off the front living room wall. Corey, his dad, and a family friend had successfully put up drywall. The wood slats were no more.
"Look! Did you see?" Spells cooed.
These sort of little alterations — and having the agency to make them happen — were exciting.
"I can kind of do what I want to do with it. Fix it. At least I'm able to fix it now with the income that I have," she said, explaining that she gets about $800 a month in disability checks.
The money will go toward repairs, but also now taxes. In July, the month before the house was deeded over, a Summer Tax Bill — $879.10 — made its way to the Kelly LLC that had owned the property at the time. The company didn't pay the bill. Spells just learned this would be on her.
Still, she was trying to remain positive.
"I can be right here with my family," she said, pointing out that her 86-year-old mother lived and owned the house across the street. Corey and his girlfriend were renting the property next door. A house wasn't just a physical structure. It was the community that surrounded it. And Spells had this.
"It don't get no better then that," she said. "It don't get no better then that."