Community pantry in Southwest Detroit destroyed by fire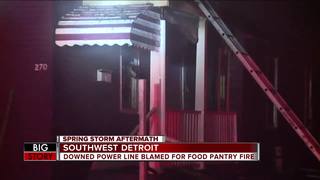 DETROIT (WXYZ) - Severe weather may be the reason a community food pantry in Southwest Detroit is completely destroyed.
Downed power lines were found on the property of In the Trenches Community Outreach, a nonprofit housing corporation that has served the community for more than 10 years.
On Monday morning when the fire broke out, firefighters arrived to the entire rear of the building engulfed in flames. All of the contents inside were unsalvageable.
The program, which offered hot meals, clothes and hygiene products to people in the community, was founded by Alberta Hubbard.
"God gave me a vision," Hubbard said. "He told me to go feed his people and to feed them like I would be feeding my own family. And that's what we've done and tried to stay true to women, children, veterans – you name it... because people need to eat."
Now the community staple that offered support to those most in need is seeking assistance.
"We need a building," Hubbard said. "I don't know. Right now we just lost everything. We just lost everything."
Investigators say they are still looking into an official cause for the fire.