Police investigating death of 2-year-old boy in Wayne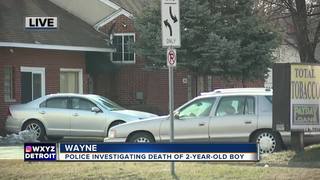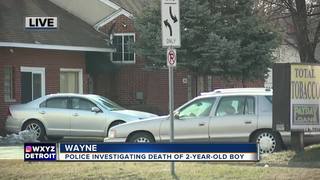 WAYNE, Mich. (WXYZ) - Police are investigating the death of a 2-year-old in Wayne.
According to Michigan State Police, emergency responders were called out to the 4900 block of Wayne Rd. on Monday evening.
When officers from the Wayne Police Department arrived, they found the 2-year-old little boy, already deceased.
Michigan State Police are assisting with the investigation and detectives are treating this as a homicide.
"Anytime a 2-year-old dies, it's suspicious in its own nature," said Lt. Michael Shaw with MSP.
The boy lived in an apartment unit with his biological mother's ex-husband, his girlfriend and their five children.
According to the landlord, the boy's grandparents also lived in a neighboring unit.
"I was extremely shocked, extremely heartbroken, because I knew the kids, I see them, they come in here, they buy candy from us," said the landlord, Ali El-Hallani.
El-Hallani said the boy and all of the children are well loved and well cared for, but he hasn't seen the boy's biological mother in more than year.
"We don't know where she is, it was really weird that she never showed up the night that this occurred," said El-Hallani.
Detectives are interviewing the family and the other children and they are waiting on word from the medical examiner for autopsy results for the cause of death.
"That's not saying at the end of this investigation, we won't find out it was natural causes or the child had some disease that wasn't detected by medical personnel until afterward," said Lt. Shaw.
El-Hallani said he is trying to support the family.
"Very, very devastating, it just tears your heart out, a father of five, so I can't even imagine what they're going through," said El-Hallani.
A GoFundMe page has been set up for the boy's family. Click here for info.