Metro Detroit man loses wallet but finds a friend who returned it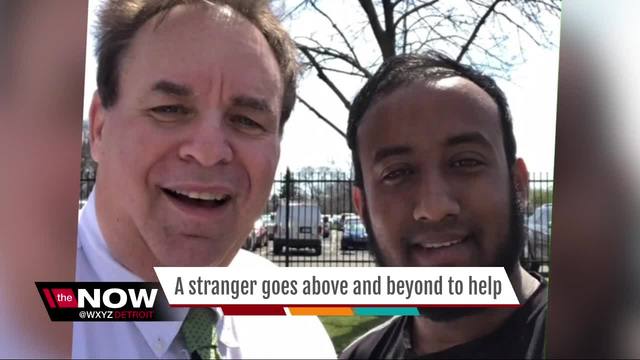 DETROIT (WXYZ) - It's a small thing, but it can create a cascade of problems.

When you lose a wallet, you've got a lot of phones calls to make. There are credit cards to cancel, and if you had any cash you can likely kiss that goodbye. So when Gary Lichtman lost his wallet while taking his mother to a Tigers game on Saturday, he assumed the worst.

"I knew, this ain't coming back," said Lichtman, a professor at University of Detroit-Mercy, "including all the things inside."

Lichtman was wrong, and he couldn't be any happier. In fact, an Uber driver was the person who spotted his Coach wallet full of cash, gift cards and credit cards. The person who found it — Raj — found his business cards inside and called Lichtman's assistant.

"I was in shock," explained Lichtman. "He said, 'You know it's completely filled, even the cash inside.' He actually apologized for going through it, and I'm saying, 'You have got to be kidding.'"

Lichtman said it was a real blessing. He had been panicking all weekend before the call came in. He certainly didn't expect anyone to turn it in, let alone with everything inside. When he initially tried to give Raj a reward, the Uber driver declined. He didn't even want to make Lichtman drive to pick it up, Raj insisted that he would drop the wallet off at his work.

Lichtman was so shocked he asked Raj to take a photograph with him. He shared the story and hundreds of people began to react.

"Being Passover, or Easter, week you just kind of think somebody is up there looking out for you."

He's also hoping that someone is looking out for Raj. The same day he delivered the wallet to Lichtman he got word of a phone interview for an engineering job that he'd been trying to get. Lichtman told 7 Action News that he's hoping a little good karma is heading his new friend's way.

Regardless of how the job situation works out, Lichtman said he's not planning on losing touch with Raj. He's already planning on taking him to a basketball game next season at UDM. According to Lichtman, it's the least he can do for someone who did the right thing when they didn't have to.