First Lady Melania Trump has donated her gown from the inaugural ball to the Smithsonian museum, as have other first ladies of the past. Take a look at what the first ladies wore when their husbands became president of the United States.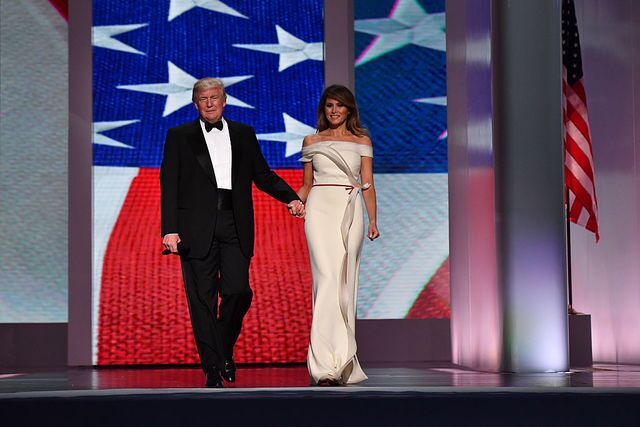 President Donald Trump and First Lady Melania Trump arrive at the Freedom Ball on January 20, 2017 in Washington, D.C.
Photo by: Pool
U.S. President Barack Obama and first lady Michelle Obama dance at the Commander in Chief Inaugural Ball at the Walter E. Washington Convention Center on January 21, 2013 in Washington, DC.
Photo by: Chip Somodevilla
First lady Michelle Obama speaks about the inaugural gown she wore to the inaugural balls during an event at the Smithsonian Museum of American History on March 9, 2010 in Washington, DC.
Photo by: Mark Wilson
Hillary Clinton is seen at the 1992 inaugural ball for her husband, President Bill Clinton.
Photo by: Henry Dunay/Wikimedia Commons
First Lady Laura Bush looks at her inaugural ball gown after it was set on display in "The American Presidency: A Glorious Burden" exhibition at the National Museum of American History January 20, 2002 in Washington, DC. The first lady presented the gown that she wore to the 2001 Inaugural balls to the Smithsonian Institution's First Ladies Collection.
Photo by: Alex Wong
President John F. Kennedy and First Lady Jacqueline Kennedy arrive at the National Guard Armory for President Kennedy's Inaugural Ball, Washington, D.C. White House Secret Service agent Gerald A. "Jerry" Behn stands in back, between the President and First Lady. Photograph by Abbie Rowe. White House Photographs. John F. Kennedy Presidential Library and Museum, Boston
Photograph of the presidential party at the Inaugural Ball, held at the National Guard Armory in Washington: (from left to right) First Lady Bess Truman, Washington hostess Perle Mesta, President Truman, Margaret Truman, Ball co-chairman Edgar Morris, and Arthur Bergman. (Wikimedia Commons/public domain)
Gown worn by Julia Dent Grant, wife of President (1869-1877) Ulysses S. Grant first lady of the White House, . This gown was worn by Mrs. Grant at the second inaugural ball in 1873. It is made of white and silver brocade. A point-lace fichu around the shoulders was worn by Mrs. Grant at her first inaugural ball. The dress is part of the First Ladies' Collection of the National Museum of American History. (Wikimedia Commons/public domain)
Ida Saxton McKinley, First Lady of the United States of America, in an official photograph for the inaugural ball for her husband's election, 1901. (Wikimedia Commons/public domain)