Police search for suspect in assault and robbery at Detroit gas station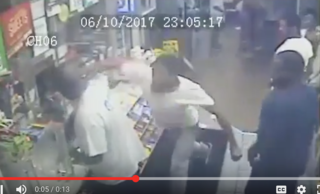 DETROIT (WXYZ) - Detroit Police are searching for at least two guys, after a customer was robbed and sucker punched at a gas station.
It all went down on June 10th, at the BP gas station at the corner of Joy Road and the Southfield Service Drive.
Surveillance video shows a customer trying to pay for gas around 11:00 pm that night, when a guy in a white shirt punches the 39-year-old customer.
They fight and wrestle for a little while, before another guy runs inside the store.
Police say the second guy was also involved in the robbery.
We're told they stole the man's wallet, and drove away in a red Dodge Magnum.
If you recognize these guys, or the vehicle, call Detroit Police right away.