No charges for Roseville homeowner after he shot and killed a man on his property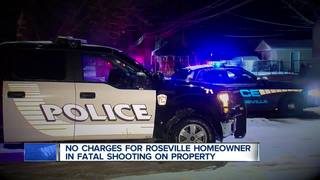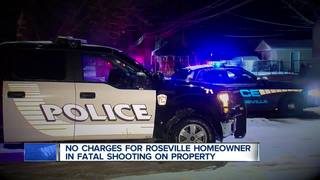 ROSEVILLE, Mich. (WXYZ) - Prosecutors will not charge a Roseville homeowner in the fatal shooting a man he reportedly caught coming out of his detached garage.
The 29-year-old homeowner was released from jail Wednesday.
Sunday night, Jeff Gray, 35, died from a single gunshot wound to the back. It's alleged that he was trying to steal tools from the homeowner's garage.
Macomb County Prosecutor Eric Smith says the homeowner killed Gray in self-defense moments after he came out of the garage..
Smith says a neighbor can backup the homeowner's story that he yelled at Gray to put his hands up and that Gray hopped the fence but did not run. The homeowner reportedly told investigators that Gray turned around with his hand on his hip and said he had a gun.
We're told the homeowner fired as Gray began to turn around again in the dark area in front of the homeowner's garage.
The homeowner's wife had already called 911 to report a break-in at their garage that was in progress.
7 Action News talked to Gray's sister, Julie Gray-Ringuette, who says her brother was in the area that night because he went to get his W-2 form that was mailed to the halfway house where he once lived and then he may have stopped because had car trouble.
Despite claiming that he had a gun, police say Gray did not have one. Prosecutors say it was not up to the homeowner to figure out if Gray was telling the truth.