Taco Bell restaurants in some states are asking customers to try chicken or steak in their burritos after quality concerns pushed it to stop serving seasoned beef temporarily.
The company said Saturday that it told affected restaurants to stop serving seasoned beef it as it replenishes supplies. The company says the beef didn't meet its quality standards. Affected locations are in Michigan, Kentucky, Ohio and elsewhere, though the company could not immediately say how many stores were no longer serving seasoned beef.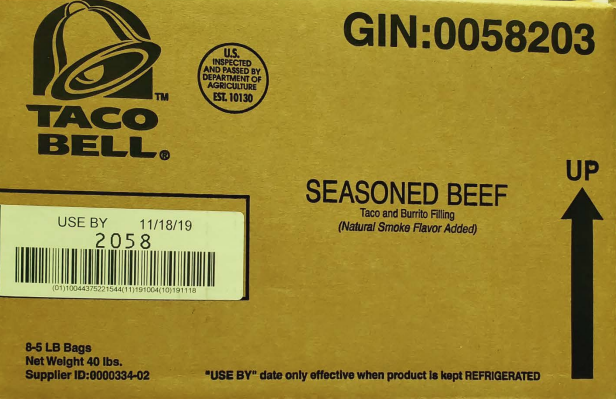 Taco Bell released this statement on their website:
On Friday, October 11, Taco Bell took immediate action and voluntarily recalled approximately 2.3 million pounds of seasoned beef from its restaurants and distribution centers. As of 9 a.m. PDT, Monday, October 14, 2019, 100 percent of the affected restaurants in 21 states across the eastern Midwest, northern Southeast and Northeast regions impacted have confirmed product has been removed and discarded.

"Nothing is more important than our customers' safety, and nothing means more to us than their trust," said Julie Masino, President of North America, Taco Bell Corp. "As soon as we received the first consumer complaint, we immediately acted to remove the product from the affected restaurants and proactively worked with the supplier to inform the USDA of our steps to protect our guests."
The USDA has stated, "There have been no confirmed reports of adverse reactions due to consumption of these products. Anyone concerned about an injury or illness should contact a healthcare provider."
The problem was discovered when a customer reported they found a metal shaving in their menu item. To ensure the safety of our guests, the company immediately partnered with the supplier to shut down the supply chain, remove the product from restaurants and distribution centers and notify the USDA.
The product was produced at one plant location on only one of the two lines used to make seasoned beef. This product was sent to distribution centers in the following states: Michigan, New Jersey, New York, Ohio and Virginia.
Customers were complaining on Twitter about not being able to satiate late-night cravings. In a statement, the company apologized for any inconvenience.