The year 2020 has been . . . well, terrible. There's no sense in sugarcoating it. For many people around the world, this has been the worst year of their lives. Through the loss and sadness, the one thing we have all been gravitating toward is hope, stories of inspiration and just plain ol' good news.
There is a popular quote that reads, "Every day may not be good, but there is something good in every day" — and while the quote may, for some, just be pretty words to look at as they're scrolling through Pinterest, there is a lovely sentiment there. That's why we started searching for the good and asking WXYZ-TV viewers to tell us something good that has happened to them this year or share positive moments from their community.
The collection of short stories is below. If you have a Good News of 2020 moment you'd like to add, please email us at GoodNews@wxyz.com.
One family's decades-long commitment to fat Christmas trees is the smile we all need in 2020.
Donna Rademacher of South Rockwood said she started bringing home a fat tree for Christmas in 1981 and it's become somewhat of an annual tradition.
"It seemed like every year, the tree became bigger, and eventually we had to have a stand made," said Donna.
But 'big' is an understatement for her pick this year, which is a blue spruce that's 11 feet wide at the bottom and 10 feet tall.
The tree just managed to fit through their door frames with a little help from family.
"You can't get them bailed once you get a tree so big," Donna laughed. "You have to measure your tree to make sure you can squeeze it through the doors."
And nearly 800 ornaments later, her Clark Griswold vision was complete.
"It keeps your mind off of stuff," said Donna. "It just brings the whole holiday spirit, things that remind you of old Christmas."
Well, it's a beaut, Donna! It's a beaut.
---
'Tis the season to make spirits bright, and one 11-year-old from Milford is on a mission to surprise her mom this Christmas.
Launching her own wrapping business, Georgee Jex has one goal in mind: to buy her mom a nice present this year for the holidays.
"She said, 'Mom, I really want to get you some amazing stuff for Christmas this year,'" said Michelle Jarvis, Georgee's mom.
She said as a single mother and with limited family around, it's been just her and Georgee for the past 6 years.
Michelle said Georgee has always had a knack for wrapping and thought she could help others who aren't so savvy when it comes to paper, bows, boxes and bags.
"She's been doing this forever, she's kind of a perfectionist — every corner has to be perfect and the embellishments have to be perfect," said Michelle.
Michelle put a callout for wrapping orders on social media and she said every day, Georgee would ask, "Mom, are there any customers yet? I'm ready."
She got her wish. This week, Georgee has her first customer.
"She's very creative and she just loves wrapping," said Michelle.
If you'd like to book Georgee to wrap your holiday gifts, you can email her mom at MichelleJex@yahoo.com.
---
A typical delivery turned into a moment a little more personal for one Michigan family.
Amanda LeCureaux of New Baltimore says she received a Ring notification on her phone of an incoming delivery on Dec. 12 and just popped it open to see what was coming.
"I started to play it…and it showed him saluting, and I was like, 'oh my gosh,'" said Amanda.
The Amazon delivery driver dropped off a package, stepped back from the porch and saluted the house before leaving.
The reason for the salute? Amanda's husband serves in the Air National Guard and they have an Air Force sign on the porch.
"He was very honored they would do something like that," Amanda said of her husband who has served in the Air National Guard for more than 13 years.
After witnessing the kind gesture, Amanda said she tried to catch the delivery driver, but he was already gone.
"My husband and I thought with all the negative stuff going on in the world…that was really sweet," she said.
---
A local nurse is spreading holiday cheer from her front porch.
Carley Williams of Milford has opened the Front Porch Christmas Shop, where those in need shop for free.
It started as a simple idea. Carley said she decided to buy a few extra gifts and put them up on a community Facebook page to see if anyone would want them.
"I did not expect the response I was going to get," said Carley. "So many people were hurting."
That's when she decided she wanted to do more. Carley started putting gifts out on her porch for people to take.
"I just wanted to give back in a small way," she said. "The whole community has come together, people are dropping stuff off all day, my mom is shopping right now."
From beautiful throws to fun toys and baby clothes, there is a wide selection of gifts. She asks that people try to limit the number of gifts they take at one time as she wants to try to help as many people as she can.
The Front Porch Christmas Shop is located at 3186 Duana Drive in Milford and it's open from 8 a.m. to 8 p.m. seven days a week.
Carley has a circle drive, which makes it easy for people to stop by.
"There's no contact, they don't have to see me, they have privacy and they're safe," said Carley.
---
While one Detroit restaurant continues to make adjustments in the everchanging landscape of the pandemic, its founder and employees are looking for ways to lift up other local service industry professionals who are suffering financially.
Stephen Roginson, the founder of Batch Brewing Company in Corktown, said the restaurant has not had indoor dining since March. He said they built a large pavilion in their parking lot, a permanent beer garden called the "Fauci Fieldhouse."
In the fall, he had an idea to share in the wealth of the space.
"It's unusual, it's atypical to have this much outdoor space," said Stephen. "We've got a lot of square feet of socially-distanced, heated, somewhat climate-controlled space, so we're offering other restaurants to be able to use that seating."
Since November, Stephen has made half of their six operating days available to other area restaurants who don't have access to outdoor seating, calling them 'pop-ups.'
The other restaurants are able to sell food that day while Batch Brewing Company serves the beer. That was just the start.
An accidental fundraiser that happened just a few weeks ago spurred another idea.
Stephen said he wanted to hold a pay-what-you-can pig and veggie roast for guests in the industry who were on hard times, so he teamed up with the Detroit BBQ Company for the cookout. But when people arrived, they started giving money, a lot of it.
"We raised over $6,000 and didn't intend to raise any money," said Stephen.
So, he started to build a fund through The Feelgood Tap, a nonprofit that aims to make philanthropy collaborative within the service industry. Stephen is a board chair for the organization and acting executive director. He said there was also about $26,000 saved to be able to hire a permanent executive director for the nonprofit, but he decided that money could be better used to help people right now.
Stephen said his hope is to be able to distribute about $40,000-$50,000 to service industry professionals starting next week.
"It'll put some groceries in refrigerators and pay some utility bills for a few people," he said.
Moving forward, Stephen said he is going to work with Detroit Kitchen Terminal, a nonprofit dedicated to reducing repeat incarceration by training workers to thrive in the city's restaurant industry, to distribute additional funds.
To make a donation to Stephen's efforts, go here.
---
Dominic was just 3 years old when he knew he wanted to give back to the community.
His adoptive mother, Rose Miller, said Dominic was always advanced in communication and could convey how he was feeling even at such a young age. When the family was forced to foreclose on their home in Oakland County, Rose said that's when Dominic decided he wanted to give back to others.
"He really struggled with leaving what he knew behind," said Rose. "He saw people eat out of trash cans, sleeping at bus stops. Dominic was like, 'we have to do something.'"
Rose said Dominic began to collect pajamas and books for kids in need despite dealing with his own health challenges with cerebral palsy and epilepsy.
"Each year for Christmas, he gets a new book and a pair of pajamas and that's kind of how it came about," said Rose. "He wanted other kids to have that joy and comfort that it brings him."
The first year of his drive, he collected around 65 pajamas and around 75 books.
He was just 4 years old when he made the delivery to area shelters near his Eastpointe home like MCREST, Turning Point, and Lighthouse. That's when the annual tradition began.
Now, Dominic is 11 years old.
"It keeps growing and getting bigger," said Rose. "Now he works on it all year long."
He set his goal for this year before COVID-19 hit, going for just over 4,000 in pajamas and books/toys. Because he hasn't been able to hold his normal events this year, Rose said Dominic is trying to come up with alternative solutions.
This Saturday (Dec. 12), the family is holding a drive-thru donation drop-off at Athena Hall in Roseville from 10 a.m. – 2 p.m. to help him meet his goal.
"He says that it just makes him feel complete," said Rose. "He tells me all the time . . . it was like an angel came down and told him he needs to help his community."
From previous years:
----
Elizabeth of Waterford said 2020 brought her the best news; she finalized the adoption of a 17-month-old girl who she had cared for since she was 2 days old.
"My whole life I always knew I wanted to be a mom, but when I was faced with health issues that dream felt like it was never going to be possible," said Elizabeth.
Diagnosed with lupus in her 20s, Elizabeth said she spent time in and out of the hospital. Then, in her 30s, her brother passed away from bladder cancer and she said she spent that time helping to care for his sons.
Right after her 40th birthday, Elizabeth said a required surgery eliminated her chances of having a biological child.
"I was devastated and broken inside," she wrote of that time.
Soon after, she said she started her journey to become licensed to provide foster care. On July 18, 2019, she received the call that would change her life — a 2-day-old needed a foster home.
"Fostering is all about supporting the birth family and supporting reunification," she said.
But when reunification was not possible, Elizabeth said she started the adoption process — and on Nov. 19, 2020, she officially adopted Alyvianna.
"While 2020 was an awful year I would do it over thousand times if it means my girl can stay with me forever," she said.
---
From Charlie of Battle Creek:
"This little girl was born on October 14 and has brought so much light into our life, she has made 2020 much more bearable and happy."
Meet McKenna Elise . . .
---
On Wixom Road, nestled between Charms Road and Sleeth Road in Milford Township is "The Giving Farmstand," an outdoor pantry of sorts packed full of food and other necessities for those in need.
Cheryl Auger was out walking her dogs recently when she started thinking about ways she might be able to give back to the community. She saw the farmstand their family uses to sell vegetables in the summer and that's when an idea popped into her head. With the help of a few friends, she put out some items and signs that read, "need food, take food" and "have food, share food."
She put it up on Giving Tuesday, sent out a few posts about it on community pages and the response was immediate.
"That next morning, I went out to put something in the mailbox, and I saw most of the products were gone," said Cheryl.
But donations started coming in, too.
"The variety of products that people are leaving . . . fresh eggs, potatoes, apples," she said. "They're digging into their wallets and pantries, and their hearts."
A woman donated a cooler to the stand, which now allows them to offer fresh food.
"It can make you float seeing that kind of stuff," said Cheryl.
Cheryl noted that she's had a steady stream of people coming to drop donations off, or take items they need – sometimes exchanging one thing for another.
She mentioned she's also doing some outreach to spread the word so more people can benefit from the stand.
"I think if we can spread the word to other communities, maybe we can get through this cold dark winter," she said.
---
Who says virtual learning isn't exciting?
One metro Detroit teacher is bringing joy to her students during the pandemic by dressing up as a different character each day.
Margaret-Ann Wommer, a social studies teacher at Frankel Jewish Academy in West Bloomfield, has been dressing up for her students since the school shifted back to virtual lessons a few weeks ago.
"My thought process was building in some anticipation for my kids, to make it exciting in some way to come to class," said Margaret-Ann.
From Princess Leia to Wednesday Addams, Margaret-Ann said she goes searching around her house for items to make her characters come to life; she notes that the creative virtual backgrounds help.
"I get compliments and laughter; the majority seem to be enjoying the experience thus far," she said of her students.
She added, "It's very much for the kids, but it's keeping me going as well."
---
A freshman at the University of Michigan turned a TikTok trend into plans to build a school in another country.
Simon Kim raised $30,000 through a social media campaign using the slogan, "keep it wholesome."
"I think when people see something like this being mobilized and this sort of movement and the momentum behind it, and spreading positivity, they really like to gravitate towards that and I'm so grateful for all the support," said Simon.
The money will be used to build a school for hundreds of kids in the east African nation of Malawi. The school building is expected to be finished by the end of the year.
Read more about Simon's story here.
---
You've heard of Little Free Libraries, but what about Little Free Ornament Trees?
Samantha Keller in Berkley said she wanted to start a new tradition for the holiday season this year and spread her love of Christmas.
"I love Christmas so much; I have a Christmas tree in every room in my house, except the bathroom," she said.
So, she stuck a tree in her front yard with lights and ornaments, and set up a sign she made that reads, "Little Free Ornament Tree," inviting visitors to take an ornament home that they love.
Soon, the tree started attracting people. Samantha watched as they would put on ornaments or take one they liked.
"I'll hear the dogs barking and I'll peek out the window," she said. "It just warms my heart that people are putting things out to share, too."
---
Santa Claus better watch out, because there's one Michigander who is bringing the holiday cheer to town — and he's slowly transforming a Macomb County subdivision into a winter wonderland one house at a time.
AJ Vultaggio, 18, has loved decorating since he can remember.
"At home, my parents, we used to decorate a lot, it looked really nice and I always remember having such good times with them," said AJ. "It's always been such a positive thing in my life, decorating, that's why I enjoy doing it so much."
Perri Kern said it was AJ's holiday decorating that actually attracted them to the lot next door in the Pinnacle Woods subdivision when they were searching to build a house.
"It just looked like they should be a fun family," said Perri.
So, six years ago they purchased the lot and moved in next door, telling AJ that if he wanted to expand his display, he was more than welcome to use their yard.
"They knew that I had extra decorations and we'd joke around and they always said, 'you can extend over,'" said AJ. "So, in 2016, I ended up doing their yard."
It was a gesture that meant a lot to the Kern family; after enduring a loss in the family and being down in Florida for a month, Perri recalls one particular trip home.
"We came home the one year and he had our whole house . . . everything lit up — just a very welcome home feeling," she said.
After that, it wasn't long before a third neighbor inquired. AJ said his other neighbor asked, "Why don't you just take it on, one more house?"
AJ then started decorated three houses every year: his family's place and the houses of his two very grateful neighbors side-by-side.
"AJ's got that sparkle in his eye," Perri said. "He's not doing it for himself, he's doing it for everybody else, he has a huge heart."
Read more about AJ's story here.
---
About five years ago, Heather Rhea-Wright decided she wanted to do something to help the people in need in her community.
First, she started to gather warm clothes of her own to hang on an outside fence near Rust Belt Market in Ferndale for people to take as needed. Soon after, she noticed her items were gone. As the owner of Painted Lady Trashions in the Rust Belt Market, she started putting a call out for others to drop off hats, gloves, scarves — any clothing or other items that keep people warm.
"Everybody should be warm," Heather said. "I seem to run out quickly, as soon as I hang things, they are gone."
Now, she hangs all of the donations on the fence near 9 Mile and Woodward with a sign that reads "please take if you are cold." She also encourages others to do the same.
"It is the coolest thing when I'm driving around … and I'll see strangers out there hanging things and that completely makes my day," said Heather. "That was the goal all along and it's happening."
Heather said blankets and sleeping bags get scooped up quickly. She said she also puts out bags of toiletries.
Heather's friend Sarah reached out to the Good News of 2020 Blog to share this story.
---
A Thanksgiving story to warm your heart. Reporter Jennifer Wilson was taking a stroll on Thanksgiving in downtown Detroit when she saw coats hanging up near Brush and Macomb. There, she met a man named Tony who said he put out the coats for people in need.
"I don't want anybody to be cold. I just came up with a little idea," he said.
Tony said he purchased the coats at a thrift store. He said his grandmother was the inspiration for his actions and that she always told him that no one should ever be hungry or cold.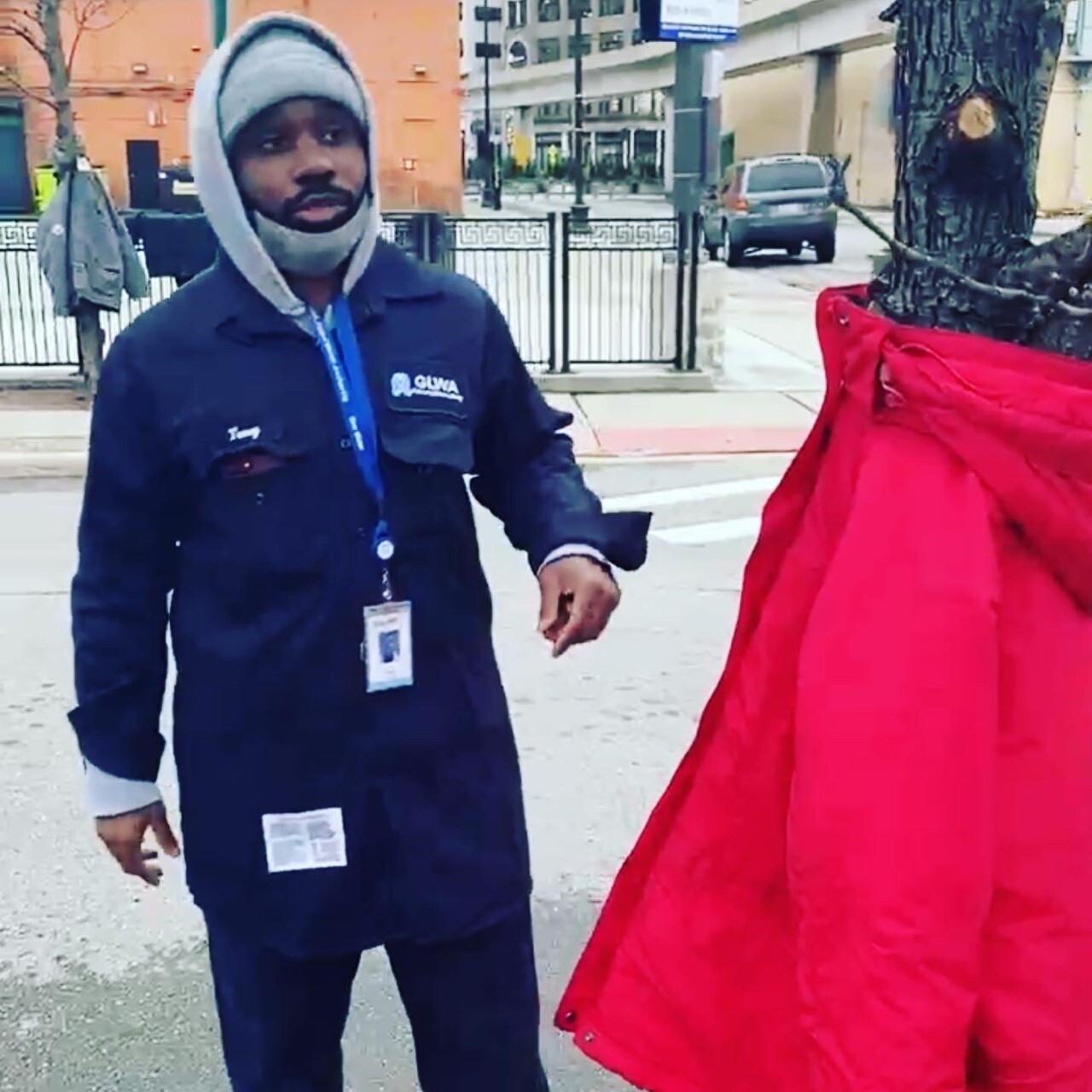 ---
Janet of Detroit is university-bound, she received her acceptance letter this year.
"I can't wait to start at Wayne State University!"
---
Erica of Detroit says the best part of this year was a blast from the past.
"Reconnected with someone from high school (12 yrs ago)! Been dating for 7 months."
---
Amy and Carson of Linden say one of the best parts of their year was adopting a furry friend!
Meet Sparrow:
---
Mary of Farmington Hills was able to have a socially distanced celebration to ring in her 108th birthday!
---
Kathryn formerly of Trenton (she lives in New Jersey now) ended up having a backyard wedding at her parent's house over the summer. She says her husband is a nurse and they had to live apart for more than 2 months due to COVID-19. They had to postpone their wedding and then cancel the postponed date before getting married in her parent's backyard.
"Got married in my childhood backyard! Intimate with immediate family."
---
Charles of Madison Heights says his youngest daughter had a son in May.
"Finally got to meet him in mid October!"
---
Rebecca of Troy says staying home more this year has given her the chance to work on her piano skills.
---
Dick and Betty were able to celebrate their 58th wedding anniversary together thanks to the dedicated staff at Troy Beaumont. Beaumont says both had been admitted to the hospital for COVID-19 and they were being treated separately. But staff couldn't let the special day go by without surprising them with cake, balloons and some much appreciated time together.
---
Congratulations to the Chandler Park Academy School District for their recent success in a national STEM education initiative. The district will represent Michigan for the National Center for Earth and Space Science Education's Student Spaceflight - Mission 14.
A spokesperson for the district says in a press release that more than 300 students from the elementary, middle and high schools participated in the experiments program. The winning experiment from the Chandler Park Academy School District, which looks at the effect of microgravity on tomato seed germination, is expected to travel with astronauts in low orbit to the International Space Station. Astronauts will then reportedly follow the students' flight procedures to perform their experiment in space. The launch is scheduled for December 5.
Only 33 school districts from across the nation participated in the Mission 14 Student Spaceflight Experiment Program, according to the Chandler Park Academy School District.
---
Sherry says she grew up in Highland Park and, as a child, dreamed of having a horse she could train to dance.
Finally 48 years later, she learned to 'sync' dance with her 2-year-old horse, which for Sherry "has been a dream come true."
While Sherry now resides in Sweden, she says "my heart will always be on Derby Street in Highland Park."