Ultimate Fishing Show-Detroit to take place January 12 - 15 in Novi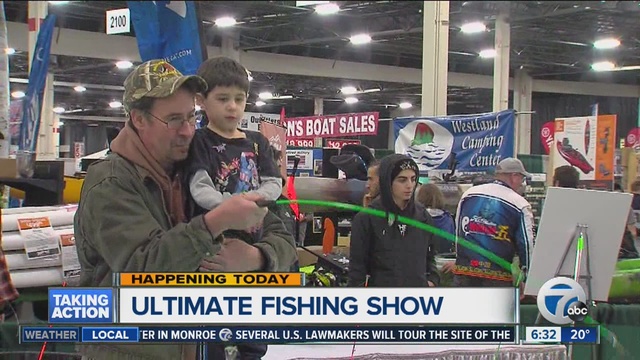 NOVI, MICH. (WXYZ) - Fishing fun for the entire family will be highlighted at the Ultimate Fishing Show-Detroit, January 12 to 15 at Suburban Collection Showplace, 46100 Grand River Avenue in Novi.

Family friendly activities will include the Ultimate Fishing Show's indoor Trout Pond, the Michigan Charter Boat Association's Virtual Fishing Simulator and the Michigan Fly Fishing Club's Fly Fishing Area. Some of Michigan's best fly fishermen will be on hand to provide continuous, free, Fly-Casting Lessons and Fly-Tying Demonstrations.
The first 500 attendees to the Ultimate Fishing Show-Detroit on Thursday and Friday will receive a free commemorative Dardevle fishing lure, courtesy of Dearborn-based Eppinger Mfg.

The first 250 attendees to the show on Saturday and Sunday will receive a free Bass Stopper lure courtesy of Stopper Lures in Hastings.

Admission is free on Thursday for patrons who bring 6 cans/boxes or 4 pounds of non-perishable food items to donate to the annual Michigan Sportsmen Against Hunger food drive. The food will be collected by volunteers from local conservation organizations and donated to the Red Cross and area food banks.

Admission is $10 for adults and $4 for children 6 to 14. There is no charge for children 5 and under.
Parking is $5 for on-site parking.

New show hours are: Thursday, 1 to 9; Friday, 11 to 9; Saturday, 10 to 8; Sunday, 10 to 5.

For more information, go to https://www.showspan.com/UFD/ or call 800-328-6550.