(WXYZ) — For those not eating meat on Fridays during Lent, we've found some of the best spots across metro Detroit for a fish fry, some are offering carry out or drive-thru options this year.
Check out the list below, coming from Facebook events and announcements. If you have a spot we should add, email us at webteam@wxyz.com.
Flat Rock Elks
4:30 p.m. to 6:30 p.m. on Feb. 19, March 5, March 19 and April 2
26917 Telegraph Rd. (Cash only)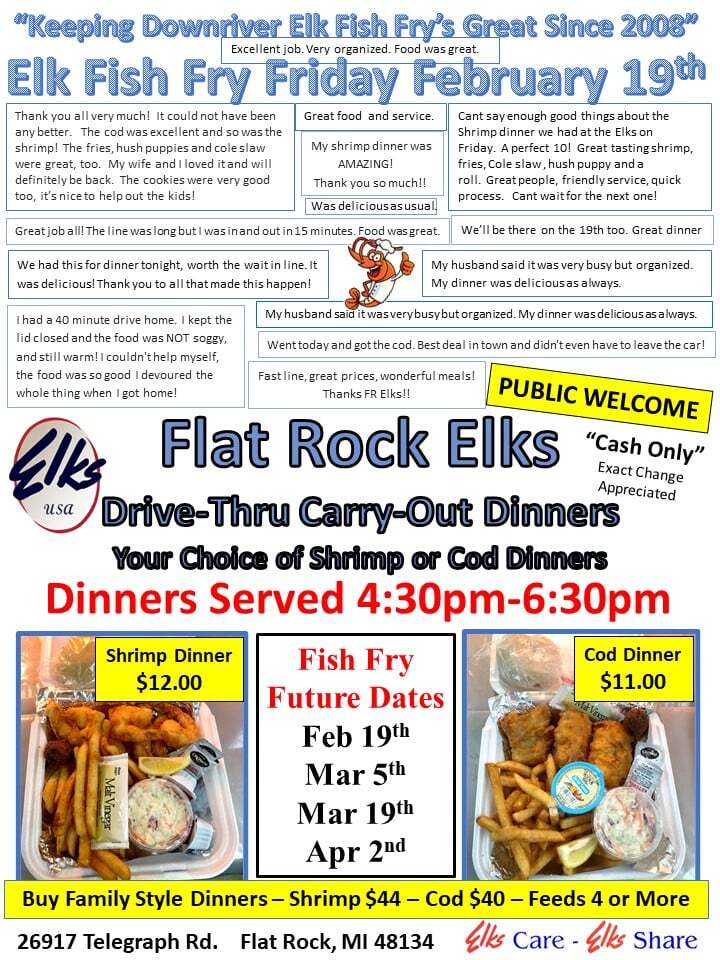 HELLENIC CULTURAL CENTER
36375 Joy Road, Westland 48185
FRIDAY 2/19 - 4/2
4:00 PM - 7:00 PM CARRY OUT ONLY
Fish Supper: $11.95 includes: Fried Cod (3 pcs), French fries, COle Slaw, Roll & Butter
Kids Meal: $9.95 Chicken tenders, French Fries
Fried Calamari (side): $2.50
ADVANCE ORDERS: hellenicculturalcenter.com
Or Walk-in Information: 734.525.6789
Saints Constantine and Helen Church
Knights of Columbus in Center Line
7400 Bernice, Center Line, 48015. Every Friday thru Lent.
Knights of Columbus in Plymouth
150 Fair St. in Plymouth
Every Friday through lent
VFW 1146 Bruce Post - St. Clair Shores
4 p.m. to 8 p.m. every Friday during Lent
28404 Jefferson Ave., St. Clair Shores
St. Charles Lwanga Catholic Church - Detroit
11 a.m. to 5 p.m. every Friday
10400 Stoepel, Detroit
St. Blase Catholic Church - Sterling Heights
4 p.m. to 7 p.m. on Fridays
12151 15 Mile Rd., Sterling Heights
St. Josaphat & Sweetest Heart of Mary Church - Detroit
Begin on Friday, March 5
4440 Russell St., Detroit
St. Francis D'Assisi - Detroit
11 a.m. to 6 p.m.
4500 Wesson St., Detroit
St. Ann Catholic Church - Warren
5 p.m. to 9 p.m. every Friday during Lent
32000 Mound Rd., Warren
Scotty Simpson Fish & Chips
11 a.m. to 9 p.m. on Fridays
22200 Fenkell, Detroit
Ukrainian Cultural Center
Noon to 5 p.m. on Fridays
26601 Ryan Road, Warren
St. Veronica Parish
21440 Universal Eastpointe, Mi.
Every Friday during Lent 4:30-7:00 p.m.
Drive-Thru only.
St. Therese of Lisieux
48115 Schoenherr Road Between 21 & 22 Mile
Shelby Twp., MI 48315
American Polish Century Club of Sterling Heights
33204 Maple Lane in Sterling Heights