Helio Castroneves, Graham Rahal top Detroit Grand Prix practices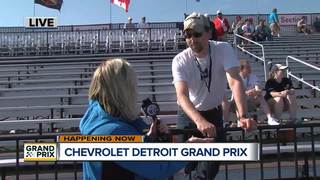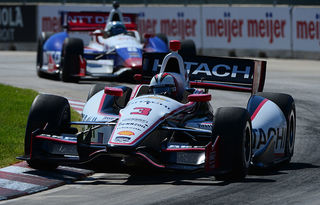 DETROIT (WXYZ) - Graham Rahal and Helio Castroneves topped the first two practices for the Chevrolet Detroit Grand Prix presented by Lear Corporation on Friday.
Rahal, driving a Honda, ran a fastest lap of 1:15.3328 with a top speed of 112.302 mph.
"I'm really pleased with the car," Rahal said. "We'll see how it goes over the weekend, but I felt like I had a couple more tenths in there easy."
Castroneves, who drives a Chevrolet for Team Penske, finished first in the second practice on Friday afternoon and second in the morning practice.
He ran a 1:15.1511, the fastest so far of the weekend, while Rahal finished second in the second practice.
Castroneves said the Detroit track is one of the tracks most important to him, a combination of being in Roger Penske's backyard and also a track where he got his first win.
For first practice, the top 10 was finished by Josef Newgarden in third, followed by Alexander Rossi, Will Power, Marco Andretti, Scott Dixon, Tony Kanaan, Ryan Hunter-Reay and James Hinchcliffe.
Simon Pagenaud was the only Team Penske driver outside the 10 ten, finishing 11th fastest.
As for second practice, Rossi finished third, followed by Pagenaud, Mikhail Aleshin, Sato, JR Hildebrand, Power, Hunter-Reay and Kanaan in the top 10.
Rossi spun during the second session on turn 8 of the Belle Isle racecourse, with Rossi blaming it to being loose on entry.
Qualifying for the Dual in Detroit, the only double-race weekend on the IndyCar circuit, is scheduled for 10:05 a.m. Saturday. The first race will air at 3:30 p.m. on Channel 7.