(WXYZ) — Updated information has led the data aggregation website Covid Act Now to conclude Michigan is no longer on track to contain COVID-19.
Last week the website had only Michigan and New York rated as on track.
RELATED: Website: Michigan one of two states in country on track to contain COVID-19
Now, New York, Massachusetts, New Jersey, and Connecticut are all rated as on track, while Michigan is rated as having Controlled Disease Growth.
According to data from Covid Act Now, Michigan's infection rate, positive test rate, and ICU headroom used remain low. However, Michigan is no longer believed to have enough contract tracing to help contain COVID.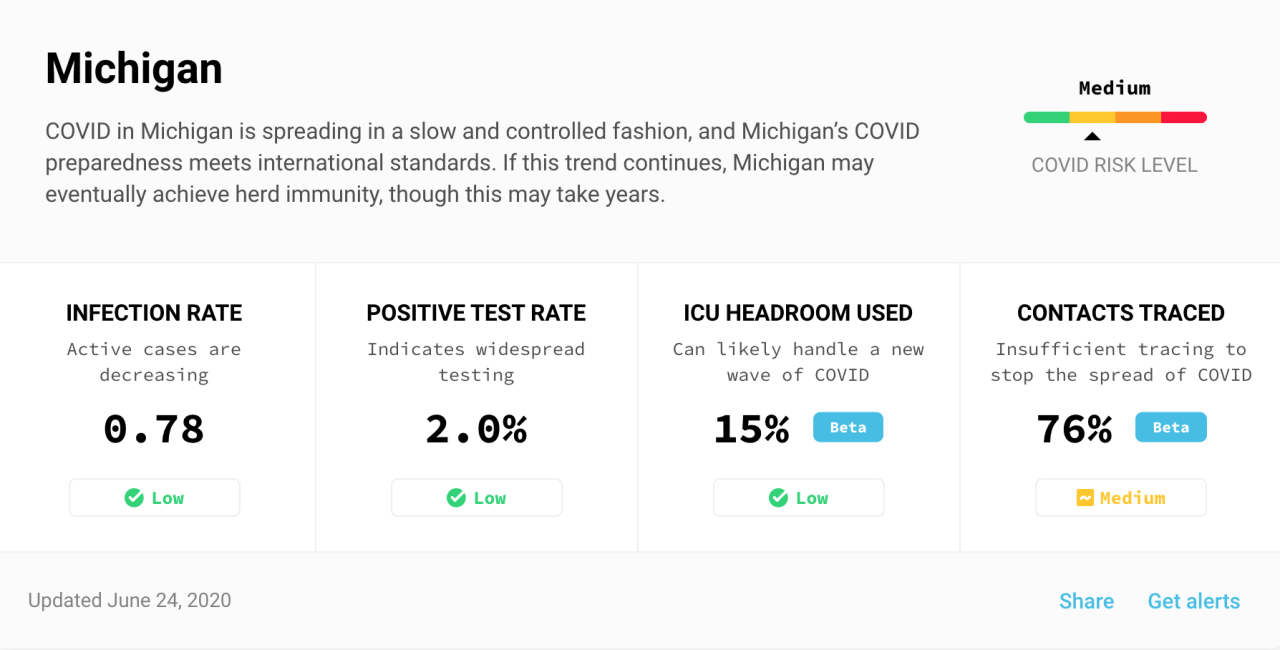 On average, the site says each Michigander with COVID is infecting 0.74 other people. While each person is infecting less than one other person, the infection rate trend is creeping up towards a rating of medium. This is reflected in the slight increase of cases over the last few days, with Michigan topping 300 cases today for the first time since June 3.
Michigan's positive test rate has also increased to 2%, after bottoming out at 1.1% for several days earlier this month.
Covid Act Now describes itself as a multidisciplinary team of technologists, epidemiologists, health experts, and public policy leaders working to provide disease intelligence and data analysis on COVID in the U.S.
Additional Coronavirus information and resources:
Read our daily Coronavirus Live Blog for the latest updates and news on coronavirus.
Click here for a page with resources including a COVID-19 overview from the CDC, details on cases in Michigan, a timeline of Governor Gretchen Whitmer's orders since the outbreak, coronavirus' impact on Southeast Michigan, and links to more information from the Michigan Department of Health and Human Services, the CDC and the WHO.
View a global coronavirus tracker with data from Johns Hopkins University.
Find out how you can help metro Detroit restaurants struggling during the pandemic.
See all of our Helping Each Other stories.
See complete coverage on our Coronavirus Continuing Coverage page.