(WXYZ) — They affectionately call themselves the "7:02 Crew."
A group of now-very-close friends, with seven from Michigan and one from Tennessee, have video chatted via Facebook Messenger every day at 7:02 p.m. since March 26, 2020.
Not every month, not every week – every single day (even holidays).
It started off ordinarily enough, group member Renay Witkowski said, when eight of them decided to hop on a video chat to wish her cousin a happy birthday.
"It was just supposed to be a birthday shot," laughed Witkowski.
The 44-year-old from Hamtramck said the original call with simple intentions turned into something much more meaningful and the group, made up of some family and some acquaintances, decided to keep it going.
"I think we just really look forward to it; it's become a daily part of our routine, like brushing our teeth," said Witkowski. "It's really been a coping group for these really challenging times."
There's Witkowski, Mark Jacek, Mike Hynarowicz, Lynette Zebrowski, Rachel Srodek, Andrea Karpinski, Renata Duma and Elizabeth Sieber.
Through birthdays to the loss of loved ones to even a birth, the 7:02 chat has been the constant.
They celebrated the 9-month anniversary of the chat the day after Christmas.
"We really enjoy it — some chats last 10 minutes, we've had one that lasted three hours," she said. Mike, Witkowski said, usually checks the group in somewhere on Facebook afterward and shares a recap of the conversation through hashtags, just to keep the fun going.
The conversations are about everything, she said, from bad work experiences to losing weight to just the minutia of the day.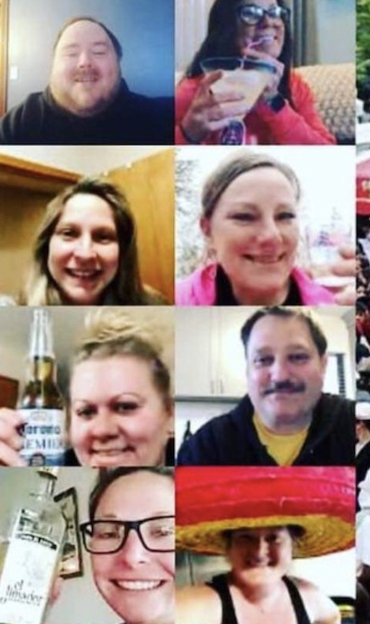 "I've made the comment more than one time . . . 'I can't wait for my 7:02 therapy group,'" she said.
Witkowski said there have been times when not everyone could make it on the chat, but there are always multiple people on it when the clock strikes 7:02 p.m.
Witkowski said they just followed the time stamp of that first call on March 26 and "someone jokingly called it the 7:02 Crew."
It's become such a big part of their lives that other people have started to take notice.
"Our close family and friends have gotten so used to our chats, they schedule things around it," she laughed.
The takeaway, Witkowski said, is that she wants people to see that there are positive sides of the pandemic, that a crew of mostly acquaintances prior to March of 2020 is now a supportive family that looks out for one another.
"While there is so much negative in these really trying times, something really awesome came from this," she said.