CPS seeks to terminate parental rights of couple accused of murdering 4-year-old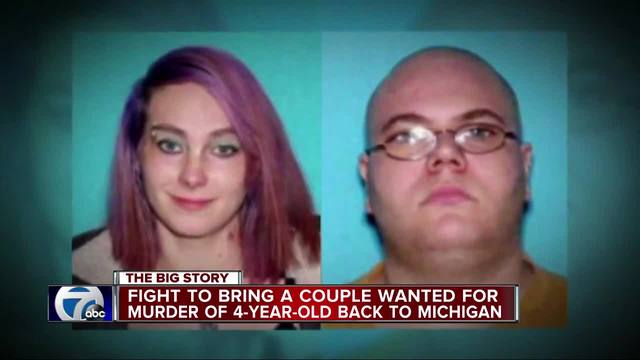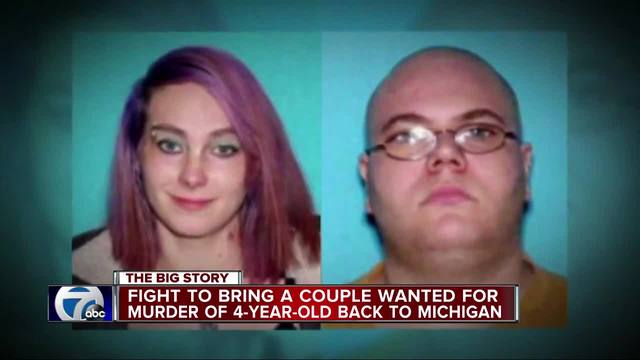 DETROIT (WXYZ) - "Gabrielle had burns all over her body and bruising to her entire body," wrote a Child Protective Services worker in court records where horrific details in the murder of the four-year-old Sumpter Township girl were revealed.
The details are part of a petition filed by the state, seeking to terminate the parental rights of 24-year-old Candice Renea Diaz and 28-year-old Brad Edward Fields to their 13-month-old daughter.
Diaz is Gabrielle's mother. Fields is not her father, but he is Diaz's current boyfriend and father to her youngest child.
Both Diaz and Fields are accused in the murder of Gabrielle.
They were arrested together in Georgia Tuesday and will be brought back to Michigan to face multiple charges including Murder and Torture.
They are also expected to appear for a parental rights hearing regarding their 13-month-old via phone on January 25 as they will likely still be in custody when the hearing is held in the Lincoln Hall of Justice in Detroit.
When it comes to Gabrielle, investigators say her "bruises were in varying stages of healing."
"The mother claimed that 4-year-old Gabrielle ran her own bath water on December 31, causing burns to her skin," reported the CPS worker in court documents.
Diaz reportedly told investigators that Gabrielle wanted to take another bath the next day, and that she placed the child in the tub and left to go make pancakes.
"She said she returned to the bathroom and found Gabrielle submerged up to her nose in the water. She claimed she pulled Gabrielle out of the tub and Gabrielle vomited. The mother said she called Brad Edwards to the bathroom for help," wrote the CPS worker.
It reportedly took Diaz 36 minutes to 911 after her daughter went into cardiac arrest.
When EMS arrived, Gabrielle was rushed to a nearby hospital where she was pronounced dead.
The Washtenaw County Medical Examiner found multiple injuries on her body in varying stages and concluded that Gabrielle was the victim of Battered Child Syndrome.
The Washtenaw County Medical Examiner also told a detective that this was the "worst child death case" in their 27 years of practice.
Diaz claims to have been diagnosed with a number of mental health issues, including bipolar disorder, depression, and anxiety.
Fields claims his mental health issues include a Schizoaffective disorder and anxiety.
Both Diaz and Fields say they have not been taking medication and have not been in counseling for their issues.
Sumpter Township Police reported they also found cocaine in the house.