Detroit AMBER Alert canceled: Missing infant found safe, father still at large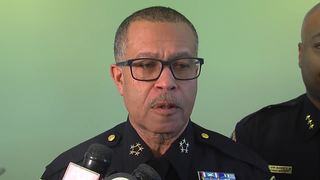 DETROIT (WXYZ) - UPDATE: The baby has been found safe, but the suspect is still on the run. The AMBER ALERT has been canceled. The suspect's mother told 7 Action News her son received a text message from the baby's mother that said he could come get his daughter.
-----------------------------------------------
A search is underway for a missing newborn in Detroit.
Police say 2-week-old Bella Osterman was forcefully taken from her mother's home in the 3300 block of Garfield by her father, Cordney Osterman. It happened just before 2 a.m. Saturday morning. The pair got away on foot.
Bella was wearing a pink onesie and a diaper at the time she was taken. Her father was last seen wearing a blue-sweatshirt, black sweatpants and burgundy shoes.
Anyone who's seen them or know where they are is asked to call the Detroit Police's Seventh Precinct at 313-596-5700 or 313-596-2250 or CRIME STOPPERS at 1-800-SPEAK-UP. You can remain anonymous.