Community feedback on the state of metro Detroit's transit system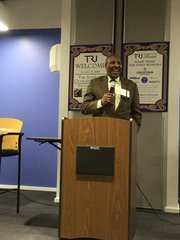 WXYZ Detroit - It was a packed house inside TechTown! Members and supporters of Transportation Riders United (TRU) came armed with great questions for a top-notch panel at TRU's "State of Regional Transit" reception and awards program. I had the pleasure of serving as MC for this very engaging summit.
The panel consisted of RTA Board Chair Paul Hillegonds, DDOT Interim Director Angelica Jones, SMART Deputy General Manager Robert Cramer and Mark de la Vernge, Detroit's Chief of Mobility Innovation. Also in attendance were Wayne County Executive Warren Evans and Sommer Woods, Vice President of External Affairs for M-1 Rail who make brief remarks supporting a more robust regional transit plan.
Kudos to Megan Owens, TRU Executive Director, for organizing this important community event!