Michigan couple arrested in 4-year-old's murder set to appear in Georgia courtroom
State has ways to report, recognize child abuse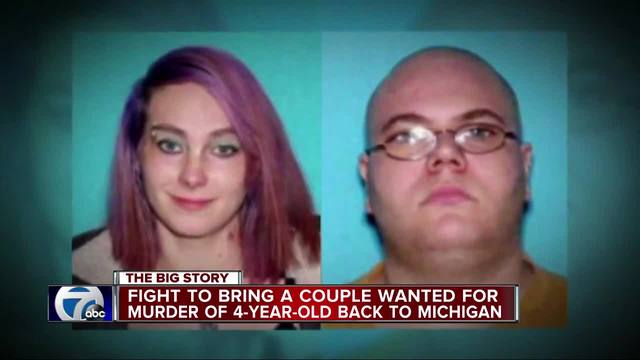 SUMPTER TOWNSHIP, Mich. (WXYZ) - The arrest by US Marshals of a Sumpter Township couple wanted in the death of a 4-year-old little girl is shining a light on possible abuse in the home.
On New Year's Day, four-year-old Gabby Barrett was found hanging onto dear life at her Rawsonville Woods mobile home.
She was pronounced dead shortly after arriving to a hospital, her death ultimately ruled a homicide with evidence of multiple traumatic injuries, including burns all over her extremities.
The prime suspects? Gabby's mother, 24-year-old Candice Diaz and her boyfriend, 28-year-old Brad Fields. The two are facing charges on four counts, including murder, torture and child abuse. The were arrested Tuesday in Lake Park, Georgia on I-75 and are being held at the Lourdes County Jail.
Diaz and Fields were set to be arraigned during a court hearing Wednesday. Extradition back go Michigan was also expected to be addressed during the hearing.
Barrett says he never saw his ex, Diaz, harm the child.
"Do I do I think she did it? To be honest with you, no. I think she had something to do with it but I think it was her boyfriend that actually abused them," said Barrett.
The couple are accused of abusing the little girl before her death.
If you suspect child abuse, there are avenues you can turn to, including the Michigan Department of Health and Human Services Child Abuse and Neglect hotline at 855-444-3911 any time day or night. This toll-free phone number allows you to report abuse or neglect of any child or adult.
MDHHS also has online resources, including information on how you can recognize the signs of abuse.
As for the Barrett family, they're trying to raise money in hopes of a proper funeral for Gabby.
Donations are welcomed at their Go Fund Me page.